Oxcide® + Deposition Control for Dairy Facilities
Surfaces that are that are regularly exposed to untreated water will develop hard scale build up over time. This will be apparent on visible surfaces. The bigger problem is the build up on surfaces you can't see inside your pipes and equipment. Mineral deposition compromises efficiency, creates hazards, and maintenance problems inside of your facility. Treating your water with Oxcide + Deposition Control causes descaling of water contact surfaces, and removal of organic deposits.  Our proprietary formula prolongs the life of your equipment and and reduces costs associated with maintenance.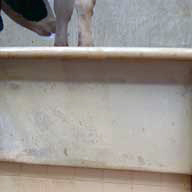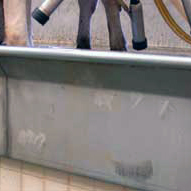 60 Day of Treatment with Oxcide® + Deposition Control
Spraying down areas of your facility with untreated water washes away unwanted material but can also leave mineral build up on your walls as demonstrated in the photo above. After 60 days of treating the water supply with Oxcide® + Deposition Control, the build up was drastically reduced without scrubbing or using harsh chemicals.